CloroxPro Blog – Professional Cleaning and Disinfection Insights
A blog from industry experts devoted to public health awareness, best practices, and the role of environmental cleaning and disinfection, to promote safer, healthier public spaces.
Tips for electrostatic sprayer system success
https://www.cloroxpro.ca/blog/tips-for-electrostatic-sprayer-system-success/
August 5, 2021
October 28, 2021
https://www.cloroxpro.ca/wp-content/uploads/2021/08/NI-50052_PPD_DVC_T360_Healthcare-SporeDefense_PatientRoom_Shot_14_.jpg
CloroxPro CA
https://www.cloroxpro.ca/wp-content/themes/electro/img/global/logo.svg
Tips for electrostatic sprayer system success
Electrostatic technology in healthcare
Electrostatic spray technology is an exciting new application in surface disinfection.1,2 Particularly given the COVID-19 pandemic, this is now a quickly growing area, and there is a lot of information out there, it may seem challenging to adopt this new technology as part of your disinfection protocol. But we're here to help. Here are some tips to help you make sure that the electrostatic sprayer system (ESS) is a success in your healthcare facility.
Education is key
ESS are available in a range of formats, including carts, backpacks and handheld systems, which can be corded or cordless.3,4 The type of space you will be disinfecting with the ESS can help you decide on which format is best for your facility-or if you require more than one type of ESS. For example, if you have a large space to disinfect, and ergonomics is a factor, you might choose a cart format. If you need to navigate a crowded space, and would enjoy hands-free mobility, you could consider a backpack format ESS. If you are disinfecting smaller areas and need mobility, the convenience of a handheld system may be right for you. Once you have selected a system, you can also access online training or educational materials to help train operators in the proper use of the ESS. Many manufacturers of ESS systems or manufacturers of disinfectants designed for use with ESS offer these resources-do check them out!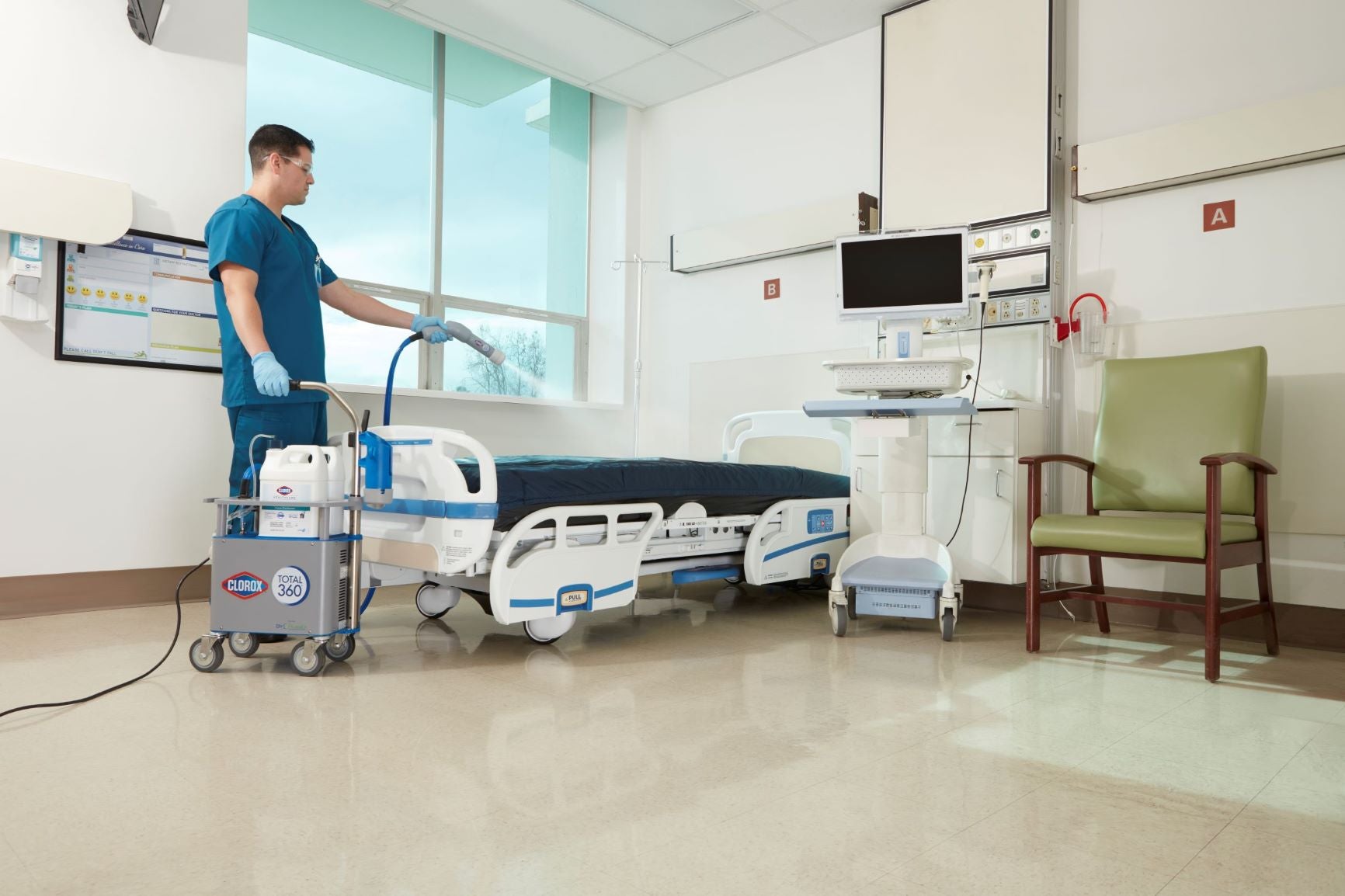 Ensure that you are using a disinfectant that is Health Canada-approved for electrostatic use
When deciding on a disinfectant cleaner to use with your electrostatic sprayer, it is important to choose disinfecting products that are Health Canada-approved for use through electrostatic sprayers.5,6
The latest information from Health Canada regarding Disinfectants applied via Electrostatic Sprayers indicates that the products used must be approved by Health Canada (i.e., have a DIN), and the Direction of Use (DFU) on the label must state "Electrostatic Sprayer" (ES) as a method of disinfection.5,6 Moreover, on Health Canada's list of disinfectants with evidence for use against COVID-19, please check that the disinfecting product is approved for product form 'electrostatic spray'.6
Select your disinfectant based on area type
In healthcare settings there are a number of different areas where you can use an electrostatic sprayer, including patient rooms, lobbies and waiting rooms, and the cafeteria and kitchen.1 Once you have identified the list of disinfectants that are Health Canada-approved for use with an ESS, consider using more than one product based on the disinfection needs of each of these areas. For example, a sporicidal product can be used where C. difficile spore is a concern, a product designed to be safe on food contact surfaces in the cafeteria, or a more general disinfectant for the lobby or waiting rooms.1
Choose the appropriate product for each area in your facility
Develop a protocol for ESS
A clear and easy-to-understand protocol can help ensure that ESS is successful in your facility. When setting up your protocol, consider the following:
Ensure that you have an adequate supply of the appropriate personal protective equipment (PPE) for your ESS operators. You can check the PPE requirements based on the product label, safety data sheet (SDS) and WHMIS label of the disinfectant.1
It is not recommended to use the ESS while room occupants are present. Check the contact time and reentry time requirements to protect bystanders.1
Always remove visible soil before disinfecting a surface using your ESS. If there is no visible soil, the ESS can be used for one-step disinfection.
For best results: Follow a spraying strategy
Electrostatic spray is attracted to surfaces and objects, but for best results direct the spray at your target surfaces, not just the air.1
Check the instructions on your ESS to identify how far away you should stand from the surface you are spraying for best results-this is different for every type of sprayer. You want surfaces to be visibly wet for the appropriate contact time for your disinfectant.3
Follow a pattern when you spray the room so you don't miss spots on the surface.

Spray slowly in a side to side motion and work from top to bottom to ensure complete coverage.3

Start in a spot furthest from the door and work back to the door in the room you are spraying.

Check for surface compatibility before spraying.1 You may want to wipe down surfaces such as glass or electronics after the contact time has been achieved to remove visible residue.
These tips can help make your ESS a success!
CloroxPro® has a range of chemistries approved for use in ESS3
In Clorox Total 360® Disinfectant Cleaner's (DIN: 02460769), the active ingredient is a quaternary ammoniumcompound and the formula does not contain any bleach. Clorox Total 360® Disinfectant Cleaner kills SARS-CoV-2, the virus that causes COVID-19 in 2 minutes, plus has demonstrated efficacy against 54 other microorganisms including cold and flu viruses (rhinovirus), MRSA and Norovirus. Clorox Total 360® Disinfectant Cleaner can be used throughout healthcare facilities (including hallways, lobbies, kitchens and laundry rooms) as well as in ambulances.
Clorox Healthcare® Spore Defense™ Cleaner Disinfectant (DIN: 02494663) formula contains a low level of bleach (0.25% sodium hypochlorite). Spore Defense™ kills influenza, norovirus, VRE, MRSA, and SARS-CoV-2 in 1 minute, and C. difficile in 5 minutes. The non-corrosive, non-abrasive formula is compatible with a wide variety of hard surfaces in healthcare facilities and can be used even in patient settings like isolation areas, emergency rooms, patient rooms, restrooms, patient transport equipment and emergency vehicles.
Clorox Anywhere® Daily Sanitizer & Disinfectant (DIN: 02495716) has a hypochlorous Acid 0.014% w/w formulation that is ideal for food-contact surfaces. Anywhere eliminates 99.9% of bacteria and viruses commonly found on food contact surfaces, such as Salmonella and E. coli., and cold and flu viruses. You can use Clorox® Anywhere® Daily Sanitizer & Disinfectant on food preparation areas and cafeterias to light switches and doorknobs.
Learn more about the products in the Clorox Total 360® ESS family.
References
Velez K. Electrostatic technology: A new method for surface disinfection. CloroxPro Canada, December 7, 2020.
Velez K. Evaluating Electrostatic Sprayers for Surface Disinfection. CloroxPro Canada. 2020.
CloroxPro Canada. Clorox Total 360® System. https://www.cloroxpro.ca/products/clorox/total-360/. Accessed July 7, 2021.
CloroxPro Canada. Clorox TurboPro™ Handheld Electrostatic Sprayer. https://www.cloroxpro.ca/products/clorox/turbopro/. Accessed July 7, 2021.
CloroxPro Canada. Data on file. Dec 18, 2020. [Health Canada response to S. Coombs]
Government of Canada. Hard-surface disinfectants and hand sanitizers (COVID-19): List of disinfectants with evidence for use against COVID-19. Canada https://www.canada.ca/en/health-canada/services/drugs-health-products/disinfectants/covid-19/list.html. Accessed April 22, 2021.
© 2021 The Clorox Company
Share this article:
Was this article helpful?