CloroxPro Blog – Professional Cleaning and Disinfection Insights
A blog from industry experts devoted to public health awareness, best practices, and the role of environmental cleaning and disinfection, to promote safer, healthier public spaces.
Rethink Cold and Flu Season
https://www.cloroxpro.ca/blog/rethink-cold-and-flu-season/
November 4, 2019
August 26, 2020
https://www.cloroxpro.ca/wp-content/uploads/2020/07/Cold-and-Flu-1.jpg
CloroxPro CA
https://www.cloroxpro.ca/wp-content/themes/electro/img/global/logo.svg
Rethink Cold and Flu Season
Cold and flu season may seem like an inconsequential occurrence each year, but the truth is that these "minor illnesses" impact Canadians in a big way.
More than a mild annoyance, cold and flu viruses are more prevalent than we imagine. In fact, 1 in 3 Canadians have a sore throat, cold or flu in any given month, and 1 in 5 Canadians ignore their symptoms altogether.1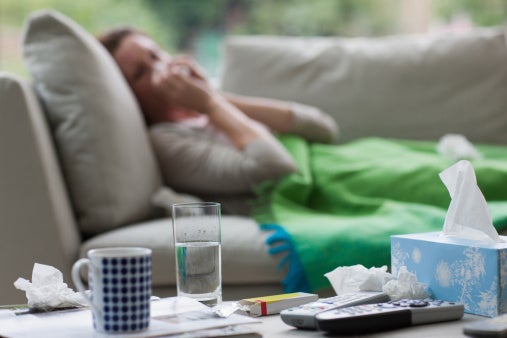 Traditionally, Canadians try to manage cold and flu symptoms themselves, spending over $300 million each year on over-the-counter cold and flu treatments. Yet despite our best efforts, these medications do little to reduce symptoms or change the course of the illness.1
The true cost of colds & flu
It's estimated that over 1.5 million workdays are lost each year from absences and reduced productivity due to the flu virus alone.2 When considering the healthcare resources required to treat these infections, the total cost each influenza season is estimated to be $1 billion per year. in Canada.2
Perhaps it's time to consider a more proactive strategy – one that involves preparation and acknowledges its power to protect.
Approximately 12,000 Canadians are hospitalized for the flu each year, and approximately 3,500 Canadians die of the flu each year, making it one of the 10 leading causes of death. in Canada.3
Fighting the unpredictable
Cold and flu season may look different each year, but whether you're dealing with a seasonal outbreak or performing daily disinfection, safeguarding your environment plays an important role in protecting public health.
"The only predictable thing about the flu is its unpredictability. While we cannot precisely predict what the next flu season will look like, we are prepared and ready for any type of flu season."4

Anna Maddison, Public Health Agency of Canada spokesperson

Here's what we know: cold and flu viruses can spread by touching contaminated surfaces and by being in close contact with someone who is ill. Influenza viruses can survive on hard surfaces such as stainless steel and plastic for up to 48 hours.5
Furthermore, certain high-touch surfaces are especially likely to transmit these viruses. Telephones (48%), keyboards and computer mice (38%) are considered germ hotspots in the office during cold and flu season.6
Surveys show that nearly all employees (86%) agree that disinfecting surfaces is one of the best ways to prevent germ transmission, and they would like employers to provide hand sanitizers and disinfecting wipes to keep at their workstations, especially during cold and flu season.6
All of this points to surface disinfection, a key part of any cold and flu prevention and management strategy.
| | |
| --- | --- |
| Try Clorox® Total 360® Revolutionary electrostatic sprayer that delivers 360° of surface coverage. Covers up to 18,000 ft2 an hour. Up to 75% faster than a trigger spray.Kills 44 organisms including cold and flu viruses, MRSA and norovirus in 2 minutes or less. | |
References:
1. Workplace Safety and Prevention Services. https://www.wsps.ca/Information-Resources/Topics/Cold-and-Flu-Season.aspx. Accessed October 8, 2019.
2. Ting E, Ungar WJ. Systematic review of the cost-effectiveness of influenza immunization programs: A Canadian perspective. 2015. https://lab.research.sickkids.ca/task/wp-content/uploads/sites/66/2018/06/2015-04-Influenza-FULL-REPORT.pdf.
3. Public Health Agency of Canada. Statement on Seasonal Influenza Vaccine for 2014-2015. https://www.canada.ca/en/public-health/services/immunization/national-advisory-committee-on-immunization-naci/statement-on-seasonal-influenza-vaccine-2014-2015.html. Accessed October 8, 2019.
4. CBC News. What you need to know before flu season hits in Canada. October 12, 2019. http://www.cbc.ca/news/health/flu-shot-flu-season-1.5318796.
5. Kramer A, et al. How long do nosocomial pathogens persist on inanimate surfaces? A systematic review. BMC Infect Dis 2006;6:130. https://bmcinfectdis.biomedcentral.com/articles/10.1186/1471-2334-6-130
5. Clorox Professional Products Company Survey. May 2015.
Share this article:
Was this article helpful?