CloroxPro Blog – Professional Cleaning and Disinfection Insights
A blog from industry experts devoted to public health awareness, best practices, and the role of environmental cleaning and disinfection, to promote safer, healthier public spaces.
What are RTU disinfectants?
https://www.cloroxpro.ca/blog/what-are-rtu-disinfectants-2/
May 18, 2022
May 18, 2022
https://www.cloroxpro.ca/wp-content/uploads/2022/05/image002-5-1.png
CloroxPro CA
https://www.cloroxpro.ca/wp-content/themes/electro/img/global/logo.svg
What are RTU disinfectants?
Find out more
Ready-to-use or RTU products are formulas (or products) that can be used with no additional steps, because they require no further dilution before application.1 Ready-to-use products can be useful for both small and large facilities, and have the advantages of portability and ease of use, no mixing or specialized training required! 
One of the most popular types of ready-to-use products is disinfectant wipes but RTU products may also include pre-mixed liquids in the form of sprays, solutions in pull-top bottles, and electrostatic formats. These formulations can consistently deliver the proper concentration of active ingredients to the surface, but there are also additional benefits for you and your facility.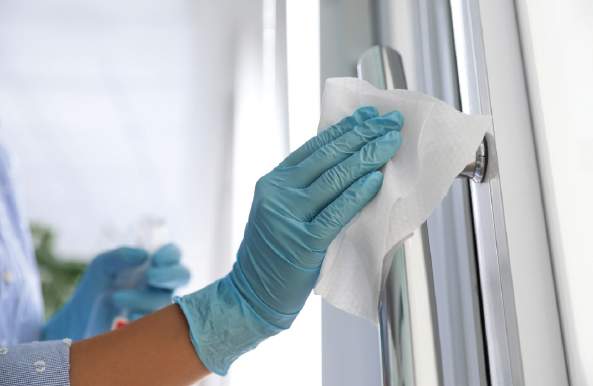 Ready-to use: Is it right for your facility?
Ready-to-use products are ideal for cleaning surfaces like grocery conveyer belts and counters in stores, desks, non-food contact surfaces in kitchens and restaurants, high-traffic areas like bathrooms and breakrooms, and high-touch surfaces like doorknobs, phones, and keyboards.
While they are not appropriate for every job, (some need a potable water rinse on food contact surfaces and on hard non-porous children's) RTU products are a convenient and fast way to kill bacteria and viruses on hard non-porous surfaces, and can be a valuable part of your cleaning and disinfecting protocol.
The price tag of dilutable disinfectants may seem appealing, but RTU formats can save you from incurring hidden costs
 5 ready-to-use advantages
1. Time and cost savings: Perhaps most obviously, RTU disinfectants can be used more quickly and efficiently than dilutable disinfectants. This enables employees to take less time when disinfecting, which can easily translate into cost savings in labour.3
2. Ease of use = proper use: RTU products don't have the same issues with dilutables when it comes to proper use. There's no risk for improper dilution, as the pre-mixed solution consistently delivers the proper concentration of active ingredients to the surface.3 Intuitively, this seems to make sense. The simpler the product is to use, the more likely it is to be used exactly as intended to effectively kill pathogens.
3. Consistently effective: Ready-to-use products ensure the proper saturation and concentration of disinfectant in every wipe, squeeze, or spray – every time when used as directed.3 On the other hand, achieving consistent dilution and saturation with traditional rag or mop cleaning leaves room for human error that can lead to quality control issues.2
4. No cross-contamination: With ready-to-use products, the disinfectant is applied to a surface and does not contact the rest of the solution again. This eliminates the risk for cross-contamination. Reusable cotton and microfibre towels on the other hand have been shown to harbour microorganisms even after being laundered!4
5. Environmentally conscious: You may assume that ready-to-use disinfectants aren't environmentally conscious, but this isn't necessarily the case. Recyclable containers are very common with RTU products. While some items like used pre-moistened wipes should be disposed of, the containers can be kept and topped up conveniently with wipe refill bags. This translates to less laundering, and less water and energy spent doing so.
Take control with RTU formulations
Public Health Ontario recommends ready-to-use products for cleaning and disinfecting public settings such as schools, transit, colleges/universities, retail locations and other workplaces.6 Use of ready for use, pre-mixed solutions help reduce the chance of errors being made in the preparation of cleaning and disinfecting solutions and can help save time.
CloroxPro® ready-to-use products
Clorox® Disinfecting Wipes
Attack multiple surfaces and messes with one efficient wipe
Bleach-free disinfecting wipes available in multiple scents and sizes
Kill 99.9% of viruses and bacteria (including the COVID-19 virus) – some in as little as 15 seconds
Effective against Human Coronavirus, cold & flu germs, E. coli, Salmonella, Strep, and more.
Great for recreational facilities, day care centers*,industrial facilities, hospitality facilities, and offices.
Clorox® Clean-Up® Disinfectant Bleach Cleaner
Powerful cleaning and disinfecting in one step so you can remove tough stains, grease and grime — and eliminate odours
Kills the COVID-19 virus, cold & flu germs, and more in as little as 30 seconds
Available in a trigger spray bottle and refill jug
Clorox® Total 360® Disinfectant Cleaner &
Clorox® Anywhere® Daily Sanitizer & Disinfectant
Delivers disinfectant to the front, back and sides of surfaces when used with the innovative Clorox® Total 360® Electrostatic Sprayer (ESS) and uses 65% less solution,† works 75% faster†‡ and covers 18,000 square feet per hour
Meet the Health Canada designation for use with an electrostatic sprayer. (to check whether a product has the ES designation, visit Health Canada's COVID-19 database at https://www.canada.ca/en/health-canada/services/drugs-health-products/disinfectants/covid-19/list.html. If your product has "Electrostatic Spray" in the "Product form" column, it's approved for use with an electrostatic sprayer.)
No harsh fumes or residue. Fragrance-free
Kill 99.9% of bacteria in 5 seconds with Total 360® Disinfectant Cleaner
Food contact compatible: Sanitize hard, nonporous food contact surfaces in 60 seconds with Anywhere® Daily Sanitizer & Disinfectant
Clorox® Disinfecting Bio Stain & Odour Remover:
Hospital-grade disinfectant cleaner that cleans, disinfects and deodorizes hard, nonporous surfaces in one step
Low odour, low residue formula kills germs including the COVID-19 virus, cold & flu viruses, Norovirus, and MRSA
Sanitizes soft surfaces in 3 min
Removes tough stains and odours, including blood and body fluids
Meets OSHA Bloodborne Pathogens standard
*Avoid contact with food. Rinse surfaces prior to use.
†Versus a trigger sprayer per square foot. ‡Not in reference to the contact times, and all contact times on the product labels should be followed.
CloroxPro® is the right partner. Learn more about the products in the CloroxPro® portfolio.
References:
Novel Coronavirus (COVID-19)—Fighting Products. UPDATED 4/15/2021. https://www.americanchemistry.com/Novel-Coronavirus-Fighting-Products-List.pdf. Accessed July 5, 2021.
Wiemken TL, et al. The value of ready-to-use disinfectant wipes: Compliance, employee time, and costs. Am J Infect Control 2014;42:329-30.
Ready-to-Use vs. Dilutables. https://www.cloroxpro.ca/blog/ready-to-use-vs-dilutables/. Accessed August 25, 2021.
Sifuentes LY, et al. Microbial contamination of hospital reusable cleaning towels. Am J Infect Control 201;41:912-5.
The Clorox Company. Environmental sustainability. https://bit.ly/2Rplqqq.  Accessed October 3, 2018.
Cleaning and Disinfection for Public Settings. https://www.publichealthontario.ca/-/media/documents/ncov/factsheet-covid-19-environmental-cleaning.pdf. Accessed July 5, 2021.
Share this article:
Was this article helpful?