CloroxPro Blog – Professional Cleaning and Disinfection Insights
A blog from industry experts devoted to public health awareness, best practices, and the role of environmental cleaning and disinfection, to promote safer, healthier public spaces.
Innovation meets disinfection challenges
https://www.cloroxpro.ca/blog/clorox-innovation-meets-disinfection-challenges/
March 1, 2021
April 5, 2021
https://www.cloroxpro.ca/wp-content/uploads/2021/03/electrostatic.jpg
CloroxPro CA
https://www.cloroxpro.ca/wp-content/themes/electro/img/global/logo.svg
Innovation meets disinfection challenges
The Clorox Company knows cleaning and disinfection. We apply this thinking to not only new and effective chemistries, but also revolutionary new application methods for efficient and effective disinfection. This innovation can help as we adjust to the "new normal" of clean needed in the wake of the COVID-19 pandemic.
Despite the best efforts, manual cleaning and disinfection methods can miss areas, leaving bacteria and viruses on hard-to-reach surfaces. In fact, only about 50% of surfaces in hospital rooms are effectively disinfected.1 But electrostatic spraying technology, a new method for surface disinfection, can help address this.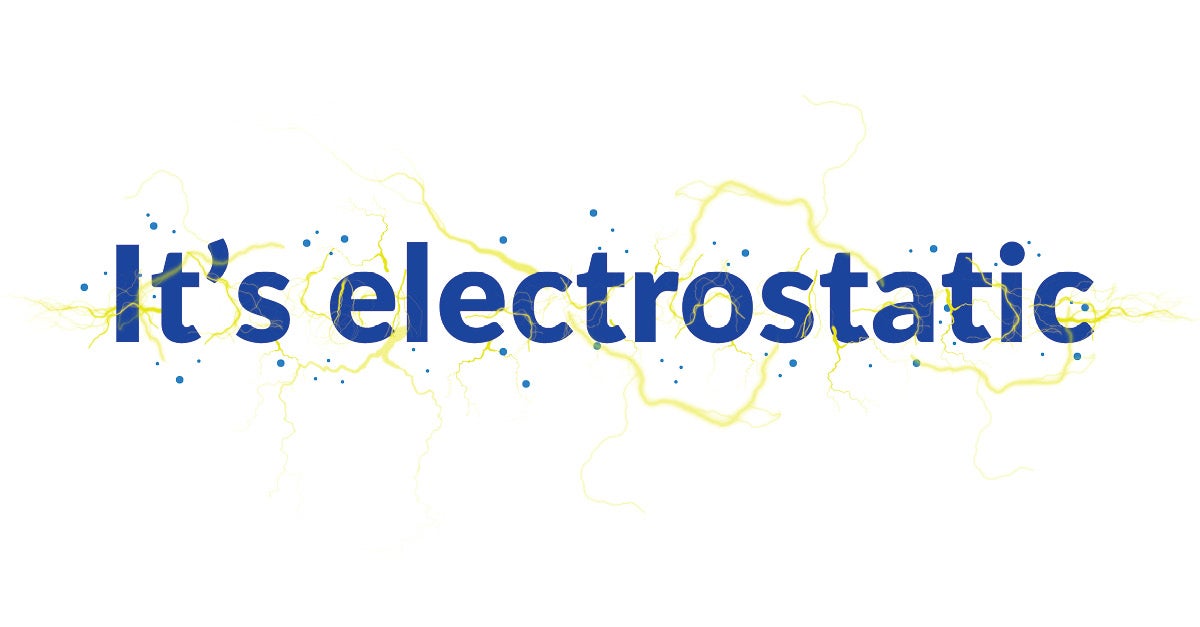 Electrostatic spray technology
Electrostatic spray technology is an established technology with exciting new application in surface disinfection.
With electrostatic sprayers, an electrode introduces an attractive charge, which atomizes the disinfecting solution. The charged particles are attracted to surfaces and "wrap around" the surfaces, resulting in uniformly coated surfaces.
Electrostatic vs trigger spray vs mister/fogger
With trigger sprays, liquid is unevenly deposited on surfaces, which requires wiping and incomplete coverage of hard-to-reach surfaces.
Misters passively deposit uncharged liquids on surfaces, require any vents in the area being treated to be sealed, and have long re-entry times after use.
Electrostatic sprayers on the other hand, actively deposit charged liquids on surfaces, ensuring wraparound coverage, with no need to seal the vents in the area being treated, and no time before re-entry.
How to choose electrostatic technology
When making the move to electrostatic technology, some things to consider are the design of the system, the chemistry of the products intended for use with the electrostatic sprayer, and safety. Think about:
Cord or Cordless?
With a corded electrostatic sprayer, there is consistent droplet charge and uniform surface coverage, resulting in a good wrap around objects and ensuring proper coverage of the front, sides and back of surfaces. In contrast, while cordless sprayers have the advantage of mobility, this comes at a price: a battery-powered sprayer can have inconsistent droplet charge, uneven surface coverage and a poor surface wrap, not to mention the time and expense of battery charging, maintenance and replacement.
Some additional factors to consider include the capacity of the sprayer, the size of the area that can be covered per hour of use or per volume of disinfectant cleaner used, and the ergonomics of the design, which will impact the ease of use.
Chemistry
When deciding on a disinfectant cleaner to use with your electrostatic sprayer, it is important to choose trusted solutions that are Health Canada-approved for use through the sprayer. In addition, it is important to know that the disinfectant cleaner has demonstrated efficacy and proven surface compatibility when applied using an electrostatic sprayer.
Some other factors to consider include the active ingredients, if it is a one-step or multi-step formulation, if the product is ready-to-use or requires dilution, whether the formula has low odour and residue, contact time required to kill common pathogens, and number of pathogens the disinfectant cleaner is proven to kill.
Safety
Consider operator safety and determine both Personal Protective Equipment (PPE) requirements and re-entry time of the disinfectant cleaners used with the electrostatic sprayer.
Electrical safety is an important consideration, and both the device and components such as batteries should be tested and certified. Ensure that your electrostatic sprayer has been tested by a Nationally Recognized Testing Laboratory (NRTL) such as Underwriters Laboratories (UL) or Electrical Testing Laboratories (ETL).
Electrostatic spraying is more than a device – it's a system
Find out more about Electrostatic Spray Technology and how it can be used in applying surface disinfectants. Click to watch the Infection Prevention and Control (IPAC) Canada webinar Electrostatic Technology: A New Method for Surface Disinfection, presented by Dr. Katherine Velez, Senior Scientist at CloroxPro™.
Is the disinfectant you're using with your electrostatic sprayer compliant with Health Canada regulations?
The latest information from Health Canada regarding Disinfectants applied via Electrostatic Sprayers indicates that the products used must be approved by Health Canada (i.e., have a DIN), and the Direction of Use (DFU) on the master label must state "Electrostatic Sprayer" (ES) as a method of disinfection to be compliant.
The Clorox® electrostatic sprayers, the Clorox Total 360® System and Clorox Total 360® ProPack system (corded backpack), exclusively use Clorox® products for superior coverage of surfaces with trusted solutions.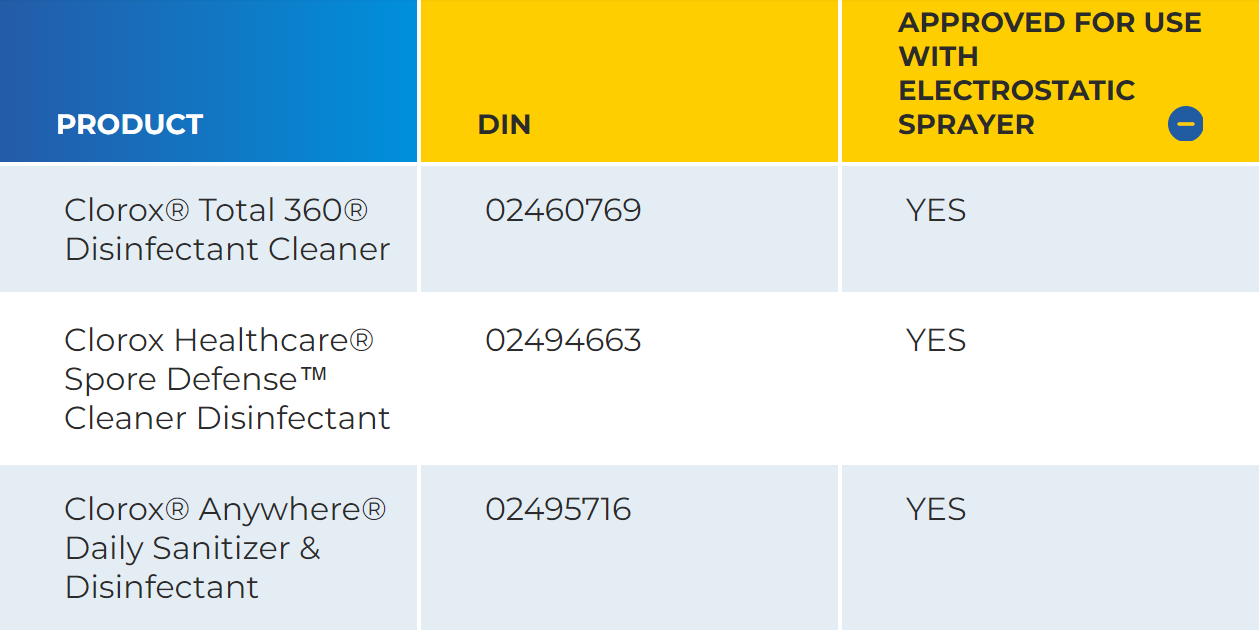 Only Clorox Total 360®, Spore Defense™ and Anywhere® meet the Health Canada designation for use with an electrostatic sprayer.
To learn more about the T360® Electrostatic Sprayer click here.
References
Bhalla, A. et al. Acquisition of Nosocomial Pathogens on Hands After Contact With Environmental Surfaces Near Hospitalized Patients. Infect. Control Hosp. Epidemiol. 2004;25(2):162–4.
Velez K. Electrostatic technology: A new method for surface disinfection. CloroxPro Canada 2020.
Velez K. Evaluating Electrostatic Sprayers for Surface Disinfection. CloroxPro Canada. 2020.
CloroxPro Canada. Data on file. Dec 18, 2020. [Health Canada response to S. Coombs]
CloroxPro Canada. Clorox Total 360® System. Accessed January 5, 2021.
Share this article:
Was this article helpful?