CloroxPro Blog – Professional Cleaning and Disinfection Insights
A blog from industry experts devoted to public health awareness, best practices, and the role of environmental cleaning and disinfection, to promote safer, healthier public spaces.
The Truth About Healthcare-Associated Infections
https://www.cloroxpro.ca/blog/the-truth-about-healthcare-associated-infections/
July 17, 2020
August 18, 2020
https://www.cloroxpro.ca/wp-content/uploads/2020/07/Capture-1.png
CloroxPro CA
https://www.cloroxpro.ca/wp-content/themes/electro/img/global/logo.svg
The Truth About Healthcare-Associated Infections
Healthcare-associated infections (HAI) are infections that patients get while receiving treatment for medical or surgical conditions. Many HAI are preventable.1
In the news.
Some infectious diseases that start in the community such as severe acute respiratory syndrome (SARS), Middle East Respiratory Syndrome (MERS) and COVID-19, the cause of the current pandemic, may also spread in healthcare facilities.2
Where do they happen?
HAI occur in all types of care settings, including acute care hospitals, ambulatory surgical centers, dialysis facilities, outpatient care facilities (e.g., physicians' offices and health care clinics), and long-term care facilities (e.g., nursing homes and rehabilitation facilities).1
According to the Canadian Nosocomial Infection Surveillance Program (CNISP), one in 217 patients acquired an infection while in hospital in 2017. While some HAI were reduced over time, such as C. difficile infections which were reduced by 25% from 2013 to 2017, other HAI such as vancomycin-resistant enterococcus (VRE) infections increased by 25%.3 Device-associated infections, such as, ventilator-associated pneumonia, catheter-associated UTI, surgical site infections associated with a prosthetic implant and central line–associated bloodstream infection, accounted for 35.6% of all health care–associated infections in 2017.4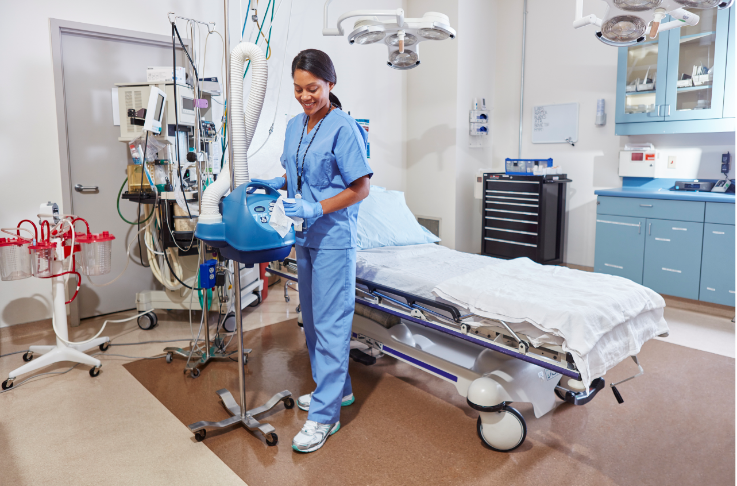 Common types of HAIs
Central line-associated bloodstream infections (CLABSI)
Catheter-associated urinary tract infections (CAUTI)
Surgical site infections (SSI)
Clostridium difficile infections
Methicillin resistant staphylococcus aureus (MRSA) infections
Vancomycin-resistant enterococci (VRE) infections
Carbapenem-resistant gram-negative bacterial infections
The burden of HAI
HAI constitute a significant burden to society, as they cause significant morbidity and mortality in hospitalized patients. More than 200,000 patients are infected every year while receiving healthcare in Canada and estimates suggest that HAI are linked to between 8,500 and 12,000 deaths per year, making these infections the fourth leading cause of death for Canadians (behind cancer, heart disease, and stroke).5
Treatment costs for HAI are high as the cost of containment and control of these outbreaks can really add up.6 Additionally, after discharge, patients with HAI have significantly higher personal medical costs than uninfected patients. They require more visits from community nurses, greater reliance on hospital outpatient and emergency services, and more visits to their family doctor.2
Prevention is critical
Environmental cleaning and disinfection is a critical strategy for HAI prevention. According to the Provincial Infectious Disease Advisory Committee (PIDAC), environmental cleaning in the healthcare setting must be performed on a routine and consistent basis to provide for a safe and sanitary environment.7
Cleaning and disinfecting products must be approved by environmental services, infection prevention and control and occupational health and safety.7 Disinfectants must have Health Canada approval and should be compatible with surfaces, finishes, furnishings, items and equipment to be cleaned and disinfected.7 Additionally, they must be used according to the manufacturer's recommendations and be effective against the microorganisms encountered in the health care setting.7
Researchers estimated that about 70% of some types of HAIs could reasonably be prevented if infection prevention and control strategies are followed.8
Make CloroxPro™ part of the process
CloroxPro™ offers multiple Health Canada-registered disinfectants based on three categories of active disinfectant ingredients – quaternary ammonium compounds (or "quats"), chlorine releasing compounds (such as bleach), and peroxygen compounds (such hydrogen peroxide), to help meet your healthcare facility's unique needs.
References:
Share this article:
Was this article helpful?