CloroxPro Blog – Professional Cleaning and Disinfection Insights
A blog from industry experts devoted to public health awareness, best practices, and the role of environmental cleaning and disinfection, to promote safer, healthier public spaces.
The new normal – Disinfection for prevention
https://www.cloroxpro.ca/blog/the-new-normal-disinfection-for-prevention/
September 24, 2021
December 13, 2022
https://www.cloroxpro.ca/wp-content/uploads/2021/09/resized-image-Promo-scaled.jpeg
CloroxPro CA
https://www.cloroxpro.ca/wp-content/themes/electro/img/global/logo.svg
The new normal – Disinfection for prevention
The global COVID-19 pandemic has shown us the importance of surface disinfection in the prevention of the spread of illness causing germ on hard, non-porous surfaces, not only in healthcare settings, but everywhere.1 Cleaning and disinfection is now top of mind for almost everyone and research shows that more than 50% of consumers think that increased cleaning and disinfecting in businesses and public spaces is here to stay.2
Recommendations for cleaning and disinfecting
With this new focus on cleaning and disinfecting, here are some important considerations:
Check whether you are using a cleaner, disinfectant, or a combination of both.7 Cleaners break down grease and remove organic material from surfaces. Disinfectants have chemicals that kill most germs.5 It is important to use the right product for the job-a cleaner won't do a disinfectant's job (and vice versa).

If you are using product that is labelled a cleaner, it needs to be used before disinfectants.5
Similarly, products that are meant for only disinfection need to be used after cleaning the surface.5
The Public Health Agency of Canada now recommends using products that both clean and disinfect when cleaning public spaces.3
Check the contact time for your disinfectant-this information should be on the label. Contact time is the amount of time a disinfectant needs to be in contact with a surface to ensure proper disinfection. Don't forget that the surface needs to be wet for the entire contact time.5,6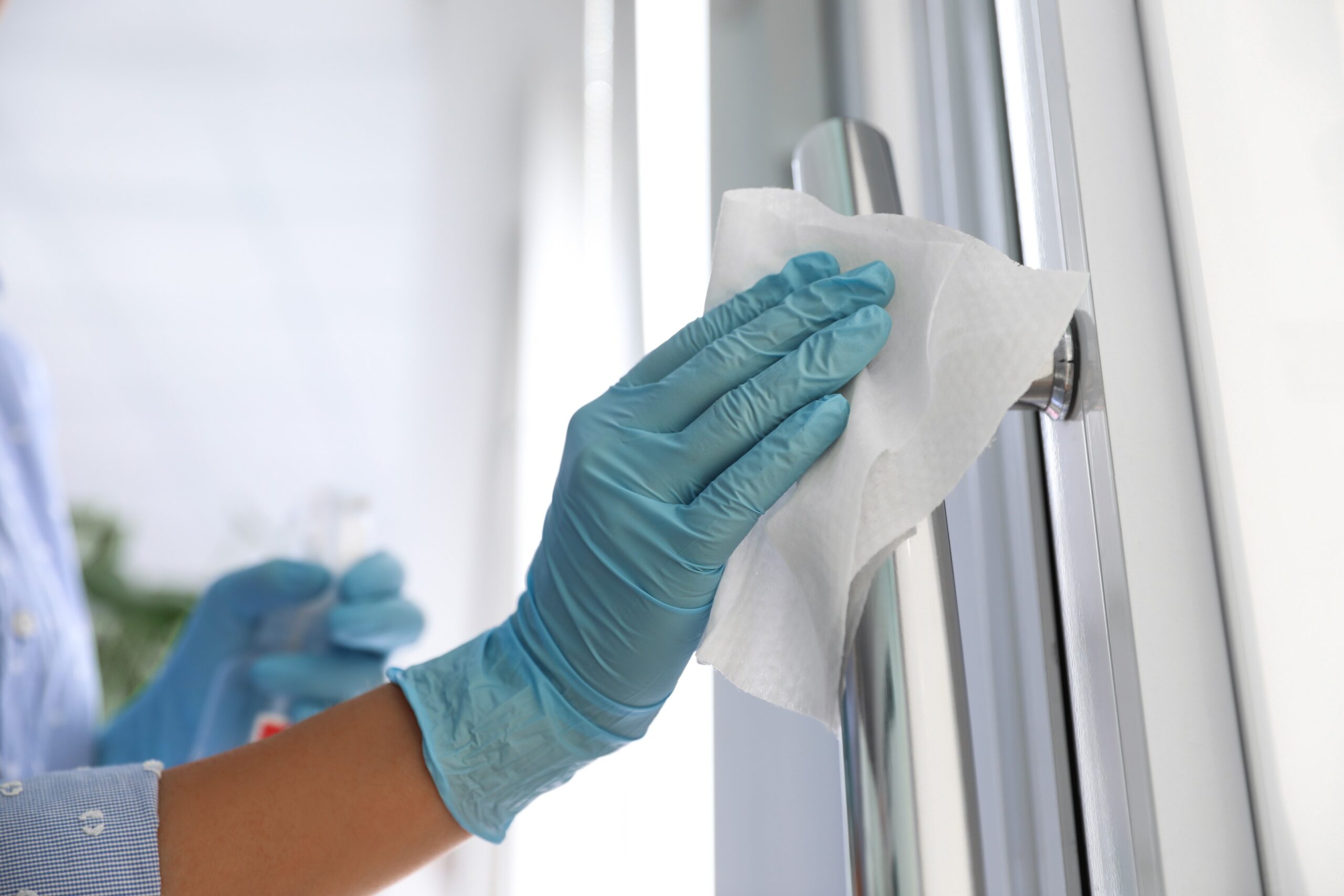 Health Canada-approved disinfectants help prevent the spread of germs
Using the right disinfectants, in the right way is an important part of the "new normal". Products that are approved for disinfecting hard surfaces in Canada have an eight digit Drug Identification Number (DIN) on their labels. Check for the DIN to confirm that your disinfectant is approved and safe for use in Canada.3
Using products with a DIN as directed can help reduce outbreaks. For example, enhanced cleaning and disinfection protocols are thought to have helped to reduce the incidence respiratory viruses such as influenza during the COVID-19 pandemic.7,8
Developing an effective disinfection protocol is part of the new normal
Ensuring that you are following an enhanced disinfection protocol is vital as we move into the new normal. One way to think about it is to apply the "healthcare clean" concept to non-healthcare settings. "Healthcare clean" is an approach that aims to reduce or eliminate microbial contamination of all hard surfaces and non-critical equipment within the healthcare environment, that can also be applied to non-healthcare settings.9 The "healthcare clean" approach includes:
Cleaning and disinfecting high-touch surfaces (using a Health Canada-approved disinfectant)
Cleaning and disinfecting non-critical equipment and surfaces between clients/patients/residents
Monitoring and auditing cleaning practices and providing feedback and education where necessary.10
Choosing a partner in disinfection
It's important to choose the right partner to help meet your disinfection needs one that can develop a partnership that can go beyond providing products. Look for one who:
Can provide best in class disinfectants
Capable in assisting with the development of protocols for your facility
Is a trusted brand in disinfection among consumers
Developing a partnership with CloroxPro® means much more than just cleaning and disinfection products. Clorox® is consistently ranked as a top, trusted brand, and CloroxPro® can provide education and assistance in setting up cleaning and disinfection protocols, in addition to providing you with effective products and equipment to help meet your facility's needs.
CloroxPro® is the right partner for you.
References
MacLeod, M. New normal: This is how COVID-19 could change cleaning forever. https://www.ctvnews.ca/health/coronavirus/new-normal-this-is-how-covid-19-could-change-cleaning-forever-1.4884040. Accessed May 31, 2021.
Lieberman LR, Patnaik M, Bardi G, et al. Future of cleaning: Seeing is believing. Barclays Equity Research. Dec 8, 2020.
Government of Canada. Cleaning and disinfecting public spaces during COVID-19.https://www.canada.ca/en/public-health/services/publications/diseases-conditions/cleaning-disinfecting-public-spaces.html. Accessed April 14, 2021.
Public Health Ontario. Cleaning and Disinfection for Public Settings. https://www.publichealthontario.ca/-/media/documents/ncov/factsheet-covid-19-environmental-cleaning.pdf?la=en. Accessed June 11, 2021.
Public Health Ontario COVID-19 Infection Prevention and Control (IPAC) environmental services for healthcare settings. https://www.publichealthontario.ca/-/media/event-presentations/pho-webinar-infection-prevention-control-environmental-services.pdf?la=en. Accessed June 11, 2021.
Health Canada. Guidance document: Disinfectant Drugs (2018). https://www.canada.ca/content/dam/hc-sc/documents/services/drugs-health-products/drug-products/applications-submissions/guidance-documents/disinfectants/disinfectant-drugs/disinfectant-drug-eng.pdf Accessed June 1, 2021.
Government of Canada. FluWatch annual report: 2019-2020 influenza season. https://www.canada.ca/en/public-health/services/publications/diseases-conditions/fluwatch/2019-2020/annual-report.html. Accessed July 6, 2021.
Rabson M. Flu season in Canada 'exceptionally low' so far, public health says. https://www.ctvnews.ca/health/flu-season-in-canada-exceptionally-low-so-far-public-health-says-1.5191985. Accessed July 6, 2021.
Gauthier J. "Hospital clean" versus "construction clean" – is there a difference? Can J Infect Control 2004;19(3)150-2.
Public Health Ontario. Best practices for environmental cleaning for prevention and control of infections in all health care settings. 3rd Edition. https://www.publichealthontario.ca/-/media/documents/b/2018/bp-environmental-cleaning.pdf. Accessed July 23, 2021.
© 2021 The Clorox Company
Share this article:
Was this article helpful?