CloroxPro Blog – Professional Cleaning and Disinfection Insights
A blog from industry experts devoted to public health awareness, best practices, and the role of environmental cleaning and disinfection, to promote safer, healthier public spaces.
Still using dilution control systems & microfibers? 3 reasons to switch to ready-to-use wipes
https://www.cloroxpro.ca/blog/still-using-dilution-control-systems-microfibers-3-reasons-to-switch-to-ready-to-use-wipes/
October 2, 2023
October 2, 2023
https://www.cloroxpro.ca/wp-content/uploads/2023/10/shutterstock_1686723004_.jpg
CloroxPro CA
https://www.cloroxpro.ca/wp-content/themes/electro/img/global/logo.svg
Still using dilution control systems & microfibers? 3 reasons to switch to ready-to-use wipes
Infection Control Practitioners (ICP) have many factors to consider when choosing a method for sanitizing and disinfecting: How effective is it at preventing outbreaks? How time-consuming is it? And, how can I ensure that product preparation and directions for use per the label are followed?
A common practice in healthcare facilities is the use of dilution control systems (DCS), where once a disinfectant-sanitizer is diluted and ready to use, it is applied via microfiber textiles. However, it is important to take a deeper look at the above factors to make sure you're making the best choice. Given the critical need to provide a safe environment for patients, staff and visitors, here are 3 powerful reasons to choose ready-to-use products like pre-moistened wipes and ready-to-use sprays that you may not have thought about.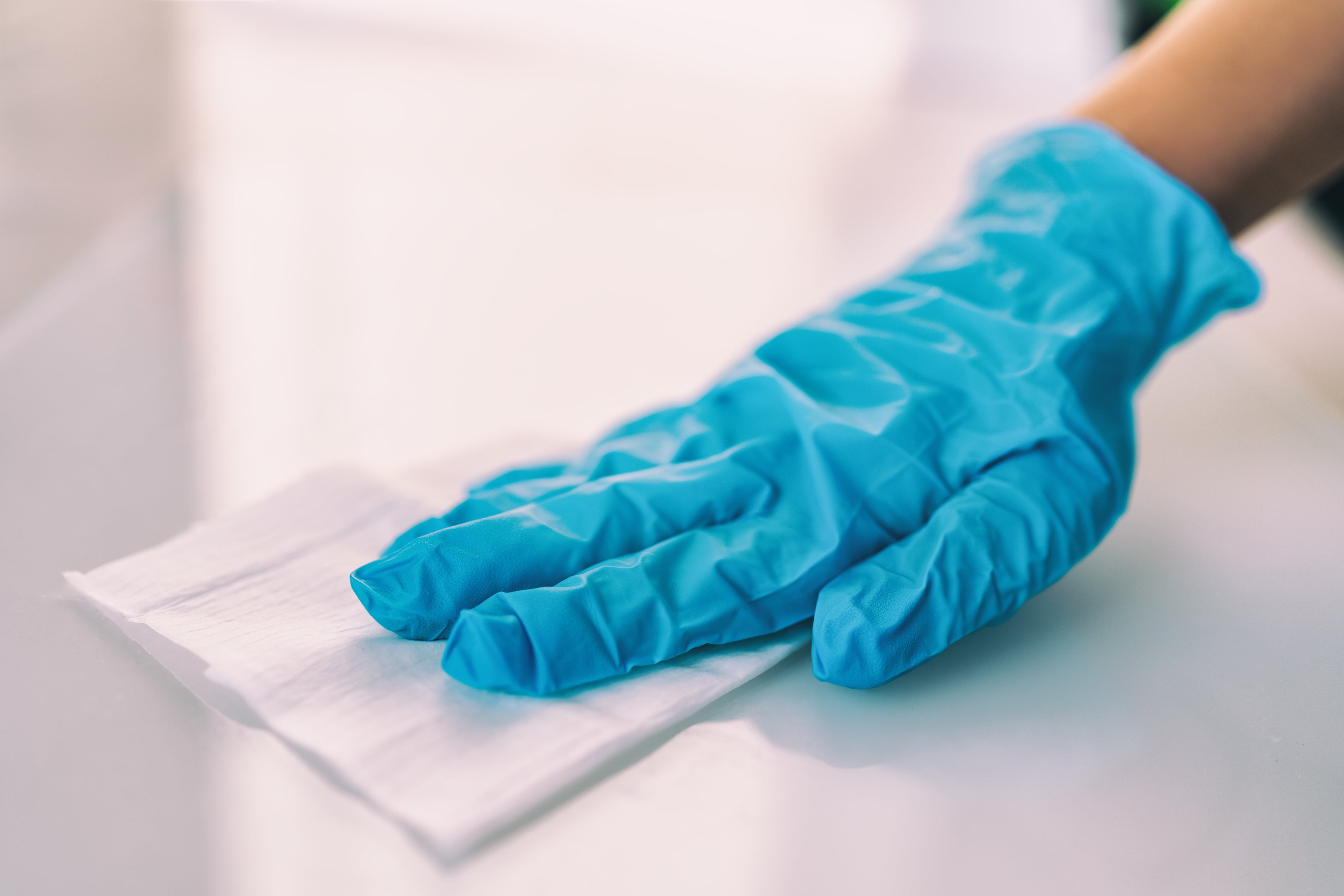 1. DCS + microfibers carry a significant risk of contamination
In fact:
Freshly laundered linens were visibly unclean in 1/3 of the 15 transplant and cancer hospitals taking part in a microbiologic surveillance study. When fungal cultures were performed, Mucorales were found on over 10% of the linens in 1 out of 5 of the hospitals.1
In a study of hospital laundering practices and microbial contaminants on microfiber towels in 10 US hospitals, the decontamination efficacy of microfiber towels was reduced after just 20 washing cycles, contrary to the manufacturer's indication of sustained efficacy after 500 washes.2
C. difficile spores on textiles were found to survive healthcare laundering practices in a large UK NHS study, posing a transmission risk. The risk increases exponentially when these microfibres are reused to apply diluted disinfectants.3
In contrast, ready-to-use wipes bring each component (sanitizing/disinfecting agent, water, container and wipe) together in a controlled environment, greatly reducing the above risks.4
Clorox® Healthcare® pre-moistened wipes are single use and are to be discarded after one use. Follow the label and use as directed.

2. With DCS + microfibers, quality control can be challenging

Consider the following findings from a 2018 online questionnaire sent to 56 members of Infection and Prevention Control Canada (IPAC):5

When asked how confident they were that they have the right concentration every time they use dilutable disinfectants, over 60% did not feel confident about their DCS
80% did not know how often microfiber cloths were replaced in their facility
50% were unaware how often the calibration of each DCS in their facility were tested.

If you asked yourself these questions, what would you answer?

Since the overall process is much simpler using single use, ready-to-use wipes, less potential risk is introduced. Watch this IPAC webinar to see the results of a DCS quality control study in a 1000-bed hospital and find more evidence for choosing ready-to-use wipes.4

3. Using DCS + microfibers is time-consuming

Multiple steps are involved in the use of DCS and microfibers, each of which requires time-consuming monitoring and auditing – for example, monitoring dilution control equipment along with water treatment equipment. Staff must also be trained on each step as well as on compliance requirements, and this training must repeated for each new hire. It all adds up to heavy labour costs.

With RTU single-use, pre-moistened wipes, far less personnel time is needed. In fact, one study found that the direct time-related cost savings associated with RTU wipes was $38.58 per employee per day.6 This means, a facility with a staff of 50 could save over $704,000 annually.

To see more quality control and compliance findings with DCS & microfibers vs. RTU wipes, watch the IPAC webinar now
Ready to adopt RTU wipes in your facility? The choice is clear
Now that you've seen the compelling case for RTU wipes over DCS + microfibers, make sure you choose disinfecting-sanitizing wipes from the industry leader, Clorox® Healthcare®.

Clorox® Healthcare® Hydrogen Peroxide Cleaner Disinfectant Wipes (DIN: 02406225)

Non-bleach, non-corrosive; tested on medical devices
Less residue
Kills 56 pathogens in 1 minute or less, including 13 antibiotic-resistant ones
Ideal for daily use in high-turnover areas on hard or soft surfaces

Clorox® Healthcare® Bleach Disinfectant Wipes (DIN: 02465671)

Built to kill nearly 60 microorganisms in ≤3 minutes
Improved surface compatibility and residue profile
Kills C. difficile spores in 3 minutes

Clorox® Healthcare® VersaSure™ Alcohol-Free Cleaner Disinfectant Wipes (DIN 02473151)

Alcohol-free quat formula
50 pathogens killed in 2 minutes or less (bacteria, viruses and fungi]
Low odour, low residue
Can be used daily facility-wide
See even more benefits of Clorox® Healthcare® ready-to-use wipes here. Want to speak to a representative about customized solutions and training? Contact us today.
References
Sundermann AJ, et al. How Clean Is the Linen at My Hospital? The Mucorales on Unclean Linen Discovery Study of Large United States Transplant and Cancer Centers. Clin Infect Dis. 2019;68(5):850-53.
Sifuentes LY, et al. Microbial contamination of hospital reusable cleaning towels. Am J Infect Control 2013;41:912-5.
Tarrant J, et al. From ward to washer: The survival of Clostridium difficile spores on hospital bed sheets through a commercial UK NHS healthcare laundry process. Infect Control Hosp Epidemiol. 2018;39(12):1406-11.
Chironda, Barley. 2018. Ready-To-Use vs. Diluteable Disinfectants: Discover The More Cost-Effective Option [Webinar]. IPAC. https://ipac-canada.org/webinar-diluteable-disinfectants.
Data on file, The Clorox Company.
Wiemken TL, et al. The value of ready-to-use disinfectant wipes: Compliance, employee time, and costs. Am J Infect Control 2014;42:329-30.
Share this article:
Was this article helpful?