CloroxPro Blog – Professional Cleaning and Disinfection Insights
A blog from industry experts devoted to public health awareness, best practices, and the role of environmental cleaning and disinfection, to promote safer, healthier public spaces.
Rethink Bleach
https://www.cloroxpro.ca/blog/rethink-bleach/
February 4, 2019
August 19, 2020
https://www.cloroxpro.ca/wp-content/uploads/2020/07/Rethink-Bleach-1.png
CloroxPro CA
https://www.cloroxpro.ca/wp-content/themes/electro/img/global/logo.svg
Rethink Bleach
Bleach is the most common disinfectant in the world.1 But not necessarily the most understood.
From its longstanding history, how did bleach make its way into our homes and beyond? And how are its latest innovations different from the bleach we think we know? The answers may surprise you.
A history of integrity
Believe it or not, during World War II, bleach making was an essential industry. It was highly valued because it could disinfect wounds and purify water – the same timeless usages that apply in all disaster scenarios.2
In fact, bleach continues to provide this value even today. In response to disasters like hurricanes and wildfires, Clorox® has donated more than 70,000 cases of liquid bleach, disinfecting wipes and other products through the American Red Cross Annual Disaster Giving Program.3
Beyond disaster scenarios, bleach also changed everyday living in terms of water consumption. Most water treatment systems in Europe and the US have been using chlorine to disinfect drinking water for nearly 100 years.4 In Canada, the use of chlorine in the treatment of drinking water has virtually eliminated waterborne diseases.5
From this impressive history, it's no wonder why bleach is used to protect many of the places we've come to know as safe.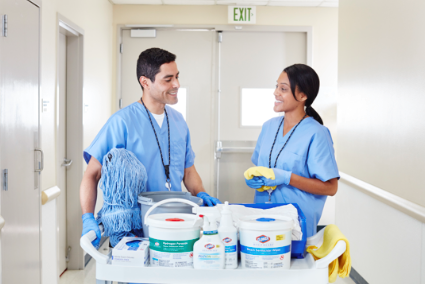 From homes to healthcare
With a strong presence in the household, bleach is sometimes viewed as strictly a consumer product. But its use outside of the home couldn't be more significant. Here's why:
It's trusted
Bleach – or sodium hypochlorite – remains the most studied and proven disinfectant to date. Today, over 2,000 North American healthcare facilities trust Clorox Healthcare® bleach disinfectants as key components of infection prevention strategies, and for good reason.6
It's effective
Clorox Healthcare® bleach disinfectants meet infection control guidelines issued by the PIDAC and APIC, and many are approved by Health Canada to prevent the spread of tough-to-kill pathogens such as C. difficile, norovirus and C. auris.7,8
It's efficient
Clorox Healthcare® disinfectants are Health Canada-registered and provide some of the fastest contact times in the industry. That's important in healthcare environments where fast turnaround times are crucial.
Curing common concerns
Even considering its efficacy and history, there are still some misunderstandings about bleach, and especially its use.
Bleach doesn't cause asthma
When used as directed, bleach can eliminate asthma-causing antigens. It's the improper use of concentrated cleaning chemicals (like using bleach undiluted or mixing bleach with other cleaners) that can negatively affect respiratory health. But ready-to-use products help promote safe and proper use.1
For example, using pre-moistened Clorox Healthcare® wipes ensures the proper concentration of bleach in every wipe, every time. So unlike dilutable disinfectants that can be potent in their concentrated form, ready-to-use options have user safety engineered into their format. Find out more about bleach and asthma.
About the odour
The active ingredient in bleach has no actual odour. Any noticeable scent comes from bleach interacting with organic matter – like the pathogens it's supposed to kill.6
The good news is, the more often you disinfect with bleach, the more this scent will dissipate as fewer proteins will be on the surface for the next disinfection.
Equipment damage
Sometimes, residue may result after using bleach, but this is simply salt.
Fortunately, getting rid of it – and protecting surfaces – is simple. Just wipe down surfaces after disinfecting with a clean, damp cloth to prevent buildup.6 Luckily, Clorox Healthcare®'s bleach formulations are designed to be compatible with more surfaces, and leave less residue behind.
Think outside the bottle
Today, bleach takes many forms. In the healthcare space, ready-to-use wipes are pre-moistened and eliminate not only the need for mixing and diluting but also the time, labour costs and error potential associated with these measures.
Check out Clorox Healthcare® Bleach Germicidal Wipes and Clorox Healthcare® Hydrogen Peroxide Cleaner Disinfectant Wipes to leverage these easy-to-use formats in your facility.
Our latest innovation in bleach, Clorox® Fuzion™ Cleaner Disinfectant, is a low-odour, low-residue formulation that's easy on surfaces, and approved by Health Canada to kill C. difficile in just 60 seconds.
Merging the efficacy of bleach with enhanced user-friendliness, this is definitely a format worth trying. Especially if you've ever had concerns about bleach's odour and residue.
Discover more about this innovative new bleach.
No matter what your facility's goals, it's clear that bleach is an effective tool for both infection prevention and daily disinfection.
References:
Common misconceptions about bleach & asthma. Clorox Healthcare. https://bit.ly/2PTE0W6. Accessed September 13, 2018.
Clorox timeline. The Clorox Company. https://bit.ly/2NumdIf.  Accessed September 13, 2018.
The Red Cross. The Clorox Company. https://rdcrss.org/2OB6gQT. Accessed October 18, 2018.
Frequently asked questions about sodium hypochlorite solution. CDC. https://bit.ly/2PQ2tLA. Accessed September 18, 2018.
Guidelines for Canadian drinking water quality: Guideline technical document – Chlorine. Health Canada. 2009. https://bit.ly/2OGA9ey. Accessed September 18, 2018.
Bleach facts. Clorox Professional Products Company. https://bit.ly/1YqRuGJ. Accessed September 13, 2018.
Best practices for environmental cleaning for prevention and control of infections in all health care settings. 3rd ed. 2013. Ontario Agency for Health Protection and Promotion, Provincial Infectious Diseases Advisory Committee. 2018.
Guide to preventing Clostridium difficile infections. Association for Professionals in Infection Control and Epidemiology. 2013. https://bit.ly/2xpVjqD. Accessed September 18, 2018.
Share this article:
Was this article helpful?