CloroxPro Blog – Professional Cleaning and Disinfection Insights
A blog from industry experts devoted to public health awareness, best practices, and the role of environmental cleaning and disinfection, to promote safer, healthier public spaces.
Discover how Electrostatic Sprayer Systems compare with UV disinfection
https://www.cloroxpro.ca/blog/discover-how-electrostatic-sprayer-systems-compare-with-uv-disinfection/
September 17, 2021
September 17, 2021
https://www.cloroxpro.ca/wp-content/uploads/2021/09/UV-Advertorial-Image-scaled.jpg
CloroxPro CA
https://www.cloroxpro.ca/wp-content/themes/electro/img/global/logo.svg
Discover how Electrostatic Sprayer Systems compare with UV disinfection
There is an alternative to UV disinfection
When it comes to effective disinfection of your facility, you have options for the format that you choose. Two of the formats you may be hearing more about lately are electrostatic sprayer systems (ESS) and ultraviolet (UV) disinfection. If you are considering adopting a new disinfection method, or have selected UV disinfection, there are important factors to take into consideration – and some information you should know.
Electrostatic technology
Electrostatic spray technology is an established technology with exciting new application in surface disinfection.1,2 With electrostatic sprayers, an electrode introduces an attractive charge, which atomizes the disinfecting solution. The charged particles are attracted to and "wrap around" the surfaces, resulting in a uniform coating of disinfection solution on the front, back and underside of surfaces.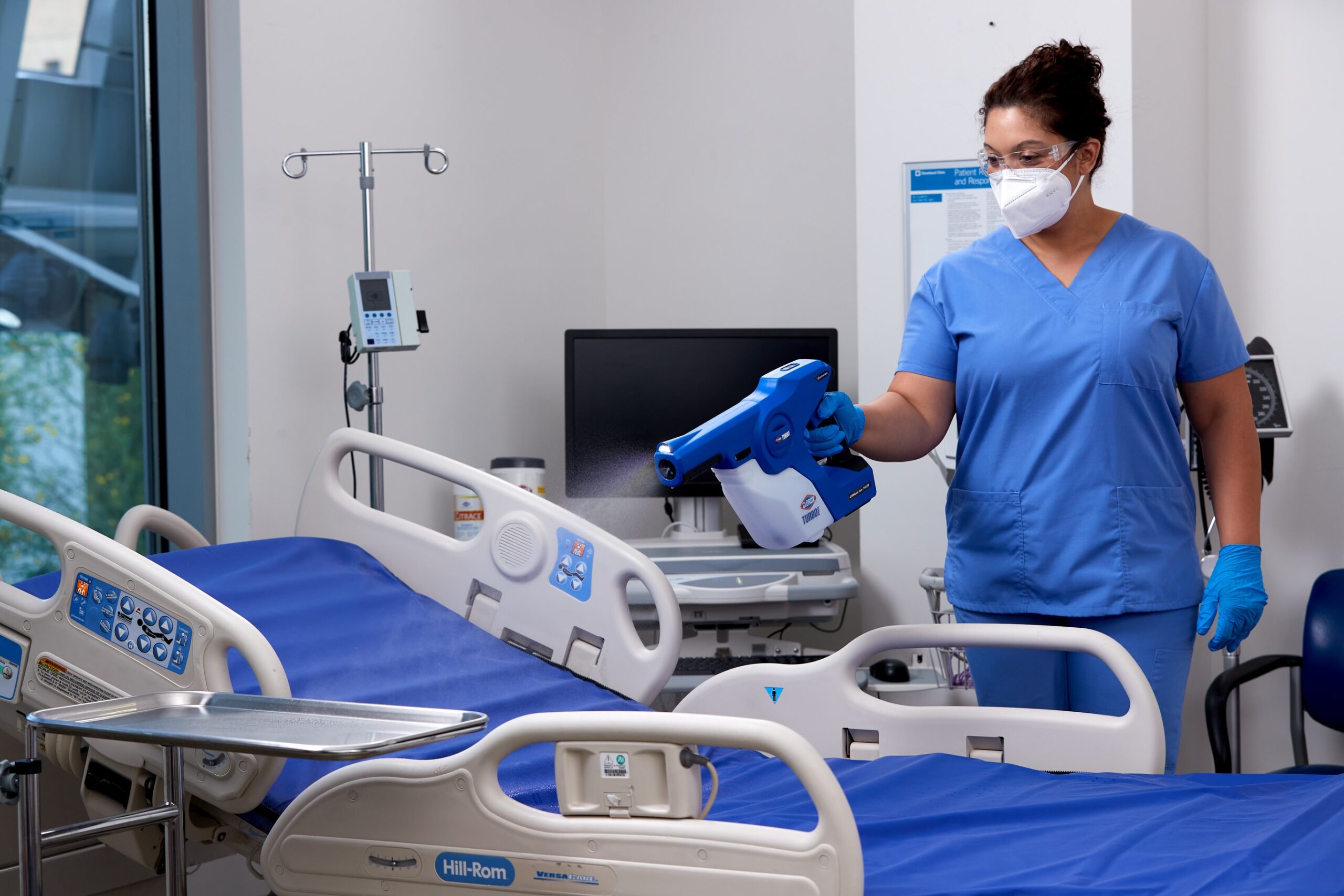 UV disinfection
Ultraviolet radiation comes naturally from the sun, but can also be created by artificial sources.3 UV light ranges from 100-400 nm and is divided into 3 types: UVA (315-400 nm), UVB (280-315 nm) and UVC (100-280 nm).3-5
UVA light has the lowest amount of energy of the three. Exposure to UVA has been linked to skin damage and aging. UVB light has more energy than UVA light, this is the main type of light that causes sunburn and most skin cancers. UVC light has the most energy, but UVC light from the sun is completely absorbed by the ozone layer, so we don't get exposed to it when we are out in the sun3-5 Not all UV light can be used to disinfect. UVC light is the type of UV that is most effective at killing germs, and can be used to disinfect surfaces, air and liquids.4-6 UVC light kills bacteria and viruses by damaging the proteins and nucleic acids that they need to survive.For disinfection, special lamps that emit UVC light are used.5,6
ESS facts
ESS are available in a range of formats, including carts and cordless handheld systems.7,8 The type of space you will be disinfecting with the ESS can help you decide on which format is best for your facility. If you have a large space to disinfect, and ergonomics is a factor, you might choose a cart format. If you need to navigate a crowded space and need mobility, the convenience of a handheld system may be right for you.
It is not recommended to use the ESS while room occupants are present, and you will need to check the contact time and reentry time requirements to protect bystanders. Check the PPE requirements for the ESS operator based on the product label, safety data sheet (SDS) and WHMIS label of the disinfectant.
The latest information from Health Canada regarding Disinfectants applied via Electrostatic Sprayers indicates that the products used must be approved by Health Canada (i.e., have a DIN), and the Direction of Use (DFU) on the label must state "Electrostatic Sprayer" (ES) as a method of disinfection.9
UV disinfection facts
One thing to remember regarding the use of UV technology for disinfection, (also known as ultraviolet germicidal irradiation, or UVGI) is that although it has potential for great efficacy, there is also potential for serious, possibly permanent, damage to the skin and eyes if safety precautions are not taken.3-5
UVC light has been demonstrated to kill viruses and bacteria, but in order for it to successfully disinfect, it needs direct contact.5,6 For example, if a surface is in shadows or covered by dust, the UVC light will be less effective.5,6
The efficacy of disinfection depends on the intensity, transmittance, exposure time and wavelength of the UV radiation used.5 In addition, the length of exposure, wavelength and dose of UV light may vary for different pathogens.6 For example, UVA and UVB aren't effective for decontamination.5 When UVC light is being used for disinfection in a healthcare facility, the design of the medical devices being disinfected by the UVC light can affect the efficacy of disinfection. This would occur if the medical device was made of a material that prevents penetration of the UV light, or if the level of UV light used was not consistent or sufficient to achieve disinfection at the deepest level. In fact, it may be impossible to achieve effective UV dosage levels without damaging the device.5 For example, materials like textiles, plastics or polymers may degrade with repeated exposure to UV light.
How does UV disinfection compare with ESS disinfection?
So, now that you know a little bit about both methods, how does UV disinfection stack up against ESS?
| | |
| --- | --- |
| Price and maintenance | UV disinfection systems can be up to 30X more expensive than ESS, and have a high cost of maintenance10-12 |
| Safety | UV must be used in closed areas away from people,12 while with Clorox® ESS there is no need to seal the vents in the area being treated, and no re-entry time after spraying is complete. |
| Time to disinfection | Disinfectants applied with ESS have been demonstrated to kill C. difficile in as little as 5 minutes, while one study found that UVC light may need about 15 minutes of exposure.6,7 |
| Coverage | UV light disinfection requires direct contact with the surface.5 Clorox® ESS has wraparound coverage that ensures the sides, underside and backside of surfaces are covered.7 |
| Time required to cover a room | A UVC light takes about 15 minutes to disinfect a 10 foot room, while rooms that are 5 feet require around 5 minutes. This is in addition to the time needed to manually clean the room.6 The Clorox ESS can cover up to 18,000 square feet per hour.7 |
When you compare cost, safety, time to disinfect and coverage, it becomes clear: ESS is a better alternative to UV disinfection.
Powerful disinfection and optimal coverage
The Clorox Total® 360 Electrostatic Sprayer System and TurboPro handheld Electrostatic Sprayer exclusively use Clorox® products for superior coverage of surfaces with trusted solutions that meet the Health Canada designation for use with an electrostatic sprayer. This includes Clorox Healthcare® Spore Defense™ Cleaner Disinfectant, which has direct efficacy against C. difficile in 5 minutes and 43 other pathogens including MRSA in just 1 minute7
Learn more about the Clorox Total 360® Electrostatic Sprayer System.
References
Velez K. Electrostatic technology: A new method for surface disinfection. CloroxPro Canada, December 7, 2020.
Velez K. Evaluating Electrostatic Sprayers for Surface Disinfection. CloroxPro Canada. 2020.
World Health Organization. Ultraviolet Radiation. https://www.who.int/health-topics/ultraviolet-radiation#tab=tab_1. Accessed May 19, 2021.
The Government of Canada. Ultraviolet Radiation. https://www.canada.ca/en/health-canada/services/health-risks-safety/radiation/types-sources/ultraviolet.html Accessed July 23, 2021.
Government of Canada. Technical requirements for UV decontamination devices: Notice to manufacturers. https://www.canada.ca/en/health-canada/services/drugs-health-products/covid19-industry/medical-devices/ultraviolet-decontamination-notice.html. Accessed May 18, 2021.
Hospital News. Ultraviolet and HVAC: Keys to reducing hospital acquired infections. https://hospitalnews.com/ultraviolet-hvac-keys-reducing-hospital-acquired-infections/. Accessed August 11 2021.
CloroxPro Canada. Clorox Total 360® System. https://www.cloroxpro.ca/products/clorox/total-360/. Accessed July 7, 2021.
CloroxPro Canada. Clorox TurboPro™ Handheld Electrostatic Sprayer. https://www.cloroxpro.ca/products/clorox/turbopro/. Accessed July 7, 2021.
CloroxPro Canada. Data on file. Dec 18, 2020. [Health Canada response to S. Coombs]
crunchbase news. Hospital-Disinfecting Robots: Xenex sees surge in orders as COVID-19 pandemic escalates. https://news.crunchbase.com/news/hospital-disinfecting-robots-xenex-sees-surge-in-orders-as-covid-19-pandemic-escalates/ Accessed June 25, 2021.
Tru-D. A PDI solution. https://tru-d.com/. Accessed June 28, 2021.
ECRI Update. Disinfection Robots: A front-line assault on hospital-acquired infections? https://www.ecri.org/Resources/In_the_News/Disinfection_Robots_A_Front-line_Assault_on_Hospital-Acquired_Infections(TechNation).pdf Accessed June 28, 2021.
© 2021 The Clorox Company
Share this article:
Was this article helpful?