CloroxPro Blog – Professional Cleaning and Disinfection Insights
A blog from industry experts devoted to public health awareness, best practices, and the role of environmental cleaning and disinfection, to promote safer, healthier public spaces.
What you need to know about monkeypox
https://www.cloroxpro.ca/blog/what-you-need-to-know-about-monkeypox/
November 1, 2022
November 8, 2022
https://www.cloroxpro.ca/wp-content/uploads/2022/11/Screen-Shot-2022-11-01-at-9.03.09-AM.png
CloroxPro CA
https://www.cloroxpro.ca/wp-content/themes/electro/img/global/logo.svg
What you need to know about monkeypox
Monkeypox was first discovered in 1958, when two outbreaks of a pox-like disease occurred in research monkeys.1 The first human case was reported in 1970 in Africa and is endemic in that continent.1 Until now, cases outside Africa were rare.
However, in May 2022 monkeypox was discovered in several non-endemic countries.1 As of September 29, 2022, there are now 68,107 cases reported worldwide, with 1,396 cases located in Canada (as of September 28, 2022).1
On July 23, 2022, the World Health Organization declared the global monkeypox outbreak to be a public health emergency of international concern.1,2
What is monkeypox?
Monkeypox is in the same family of viruses as the variola virus, the virus which causes smallpox.1,3 However, monkeypox is not related to chickenpox.3
Symptoms of monkeypox include fever, headache, muscle aches and backache, swollen lymph nodes, chills, respiratory symptoms and a blistering rash that appears on the face, inside the mouth and over the body.4 Some people get the rash before other symptoms, others will only have the rash.4 Monkeypox usually lasts 2-4 weeks.4,5
Monkeypox can spread from animals to humans, from person to person, and through contaminated objects. It is mainly spread, by touching the monkeypox sores or blisters, but can also be spread by touching items with the monkeypox virus on them such as bedding or towels, commonly touched hard, non-porous surfaces such as tables, chairs, door handles, toilet flush handles, faucets, light switches, walls and floors, or respiratory droplets in coughs and sneezes during close contact with someone who has monkeypox.1,5,6
Disinfection of hard, non-porous surfaces with appropriate disinfectants may help control the spread of the monkeypox virus.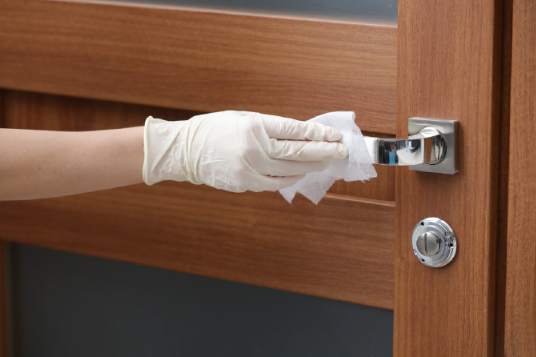 Hard surface disinfectants and the two types of viruses
There are two different types of viruses: Enveloped and non-enveloped.
Non-enveloped viruses don't have fat-based envelopes and are more resistant against hard surface disinfectants than enveloped viruses.2 This is because hard surface disinfectants target the fat-based envelope of the viruses, and this targeting inactivates the virus.2
Since non-enveloped viruses are more difficult to kill than enveloped viruses, the hard surface disinfectants that are effective against non-enveloped viruses will likely also be effective against enveloped viruses.2
Monkey pox is an enveloped virus.2
Combating a new threat: Surface disinfectants for emerging viral pathogens
Monkeypox is an emerging viral pathogen (EVP) in Canada. EVPs are viruses that have just appeared in a population or have been around but are increasing in numbers or locations.2
With the number of cases of monkeypox in Canada rising, Health Canada has activated its EVP Policy.5 The EVP Policy is an important tool which allows for a quick way to address environmental surface disinfection for an EVP of public health concern.
When an EVP first appears, there is usually a period of time before we know how long the virus can survive on hard, non-porous surfaces, and how surface transmission contributes to the spread of the virus. In addition, there are few or no authorized hard surface disinfectants available for the specific virus.2 In these situations, Health Canada allows disinfectant manufacturers to reference existing information on file for efficacy claims against non-enveloped viruses and let the public know how effective they believe their hard surface disinfectant is against the emerging virus.2
The Health Canada List of Surface Disinfectants for EVPs includes Health Canada-approved disinfectants that are supported by evidence against an eligible non-enveloped virus and can be used against EVPs such as monkeypox.2
Visit the Health Canada website for the full list of products with claims against monkeypox.2
CloroxPro® has a range of products
A number of Clorox Healthcare® products can be used to help protect against the monkeypox virus, including Clorox Healthcare® Hydrogen Peroxide Cleaner Disinfectant and Wipes, Clorox Healthcare® Fuzion Cleaner Disinfectant and Clorox Healthcare® Bleach Germicidal Wipes.2
Learn more about monkeypox and the products that can be used in the fight against monkeypox in the CloroxPro® portfolio
References
© 2022 The Clorox Company
Share this article:
Was this article helpful?