CloroxPro Blog – Professional Cleaning and Disinfection Insights
A blog from industry experts devoted to public health awareness, best practices, and the role of environmental cleaning and disinfection, to promote safer, healthier public spaces.
Bleach, Reinvented
https://www.cloroxpro.ca/blog/bleach-reinvented/
April 1, 2019
August 19, 2020
https://www.cloroxpro.ca/wp-content/uploads/2020/07/ResizedImageWzYwMCw0MDBd-NI-34041-Hospital-EVSWorkerCleaningOperatingRoom-115-0516-i1-11-07-16-1737-small.jpg
CloroxPro CA
https://www.cloroxpro.ca/wp-content/themes/electro/img/global/logo.svg
Bleach, Reinvented
Fuzion™: A low-residue, low-odour, surface-friendly innovation
There's no denying the power of bleach to kill pathogens. However, its efficacy can become overshadowed by concerns users may have about odour, residue and surface damage.
But times have changed, and now, the future of bleach tells a different story.
All of the benefits, fewer drawbacks
When you combine the proven power of bleach with excellent aesthetics, you get a disinfection solution that's ideal for broad use throughout your facility.
That's the principle behind the development of Clorox Healthcare® Fuzion™ Cleaner Disinfectant. Fuzion™ merges efficacy with user-friendliness to enable you to get that bleach clean – without compromise – while easing concerns about odour and residue.
And the benefits don't stop there.
Kills C. difficile in just 60 seconds
Kills 36 additional pathogens in 60 seconds – including TB & fungi
Low residue, low odour
Easy on surfaces
No protective equipment required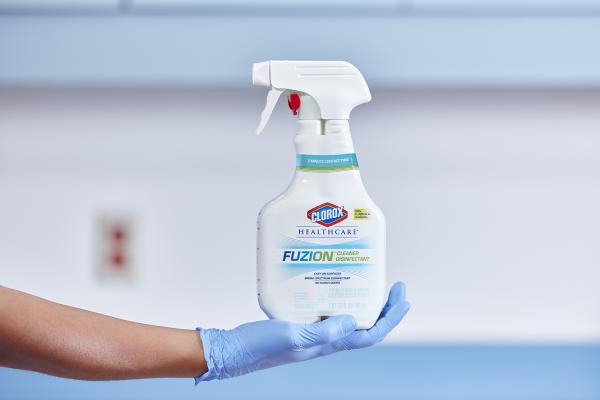 How Fuzion™ works
So how did this innovation come about? You may be surprised to know that it all started with the spray bottle.
Inside the Fuzion™ bottle are two separate chambers; one containing sodium hypochlorite (i.e. the bleaching agent), the other containing a neutralizer. When the two liquids mix upon spraying, hypochlorous acid is formed to kill pathogens quickly.1
The neutralizer then breaks down the bleach to leave only water and a small amount of salt on the surface. This innovative technology is what minimizes the potential odour, residue and surface damage.1
Use more often, in more places
With this advanced new formulation, you can count on the efficacy of this next-gen bleach for everyday use in more places than ever before, including:1
Emergency rooms (ER)
Patient & waiting rooms
Nurse stations
Public restrooms
IV/Dialysis
And more
That means you don't have to reserve bleach strictly for occasional or intensive cleaning. You can use it on a daily basis to maximize disinfection at your facility – and that's good news for everyone.
The truth about bleach concerns
If you have concerns about bleach, you're not alone. But you might not know as much about this disinfectant as you may think.
The truth is that most user concerns about bleach are addressed by today's formulations. Here's why it's time to rethink bleach:
Better surface compatibility: Today's bleach formats are engineered to be compatible with more surfaces and leave less residue behind.2
Improved compliance: Ready-to-use formats like Clorox Healthcare® Fuzion™ Cleaner Disinfectant deliver the correct amount of bleach every time (versus dilutable formats whose use can be prone to human error).
Less odour: The active ingredient in bleach has no actual odour and isn't volatile. A scent may occur as it interacts with pathogens, but Clorox Healthcare® Fuzion™ Cleaner Disinfectant is a low-odour formulation.
Discover your disinfection solution
Whether you prefer to stick to Clorox Healthcare® bleach in its more traditional formats, or are interested in trying Fuzion™ for free, you've got plenty of great options.
It's a new day in disinfection with Clorox Healthcare® Fuzion™ Cleaner Disinfectant.
References:
Clorox Professional. Clorox Healthcare® Fuzion™ Cleaner Disinfectant (DIN 02459744). https://bit.ly/2QgNDhq. Accessed October 1, 2018.
Clorox Professional Products Company. Clorox Healthcare® Bleach Germicidal Wipes (DIN 02465671). https://bit.ly/2cMNlNX. Accessed October 1, 2018.
Share this article:
Was this article helpful?